Wow. Just wow. Another year, another epic HighEdWeb conference. This is truly becoming my "must attend" event of the year (and, yes kids, I place it at a much higher premium than things like South By Southwest or An Event Apart). The caliber of the presentations this year blew me away, and I'm kind of sad that there were so many great ones I didn't get to see. Here were my top three takeaways:
1) Manage Expectations
One of the most interesting sessions I went to was actually about Google Wave. @Robin2Go proposed for the conference long before Wave's demise and the brief descriptions of her presentation in the program said it all:
"Curse your sudden but inevitable betrayal…!"
But what ended up happening was sort of an after action about why Wave failed and the ramifications of trusting Google (or any company that offers free software like that) with our processes and information. The biggest takeaway for me was how critical it is to manage expectations. Google didn't do that with Wave and unfortunately it resulted in no one coming back to it after the "official" launch to see how much things improved from the initial release. If you don't manage expectations for your projects, you're dooming yourself to failure.
2) Find your champion
@dylanw touched on this point in his amazing best in show talk, but for me this one was really solidified with @tonydunn's presentation. We all know that change has to come from the top, but it hit me during the conference that it may have to come from the top, but that is not where it has to start. It should start with those in the trenches who know the real problems and have real solutions, but they have to be wise enough to know that they aren't going to get change on their own. They have to find their champion - someone at the top to convince that they are right and to bring about necessary change. So that's the challenge - finding your champion.
3) Engage with the community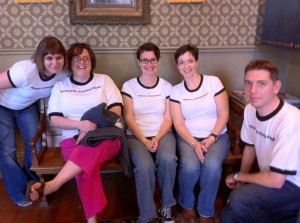 The higher education community never ceases to amaze me, and if you work in the industry and haven't engaged with these amazing people, you are missing out. Last year we had the great keynote meltdown that @tonydunn described as a bonding experience. I wondered if the same camaraderie we felt going through that hilarious and tragic event would carry through to this year without a similar event taking place. Well that worry went away the moment I walked into #tattooparty and @loripa handed me a surprise t-shirt that was made up for those of us insane enough to get inked before the conference. It continued through the rest of the conference, from jello shots at Madonnas to the .eduGuru sponsored sushi night to karaoke (and, wow, we attended a few sessions in there too!). Everyone is completely giving of their time and knowledge, and when I go to one of these things, it's not work. It's seeing and learning from friends. And for me, that's what really makes this conference so good. For a few days, I get to go hang out with some of the smartest people I know in the industry, learn from them, and then leave with my head spinning with new possibilities.
Congratulations to all those involved with the conference for putting on such a fantastic event. See you all next year in Austin! I wouldn't miss it for anything.