Did you watch the NCAA College Basketball National Championship game Monday night?  If you didn't, a little school known as Butler University played in the biggest game of the school's history.  Yes, it's true that they lost to Duke in a VERY close game, but I want to take a look at another sort of "loss" for a second.  This epic run for the school is by all means a great buzz and brand awareness campaign.  During the game "Go Butler" was a trending topic on Twitter at one point and for about half an hour during the game I left a search for the hashtag "#butler" up on my computer.  By the time I closed it, there were almost 1,500 tweets for that hashtag.  Needless to say, you simply can't buy that sort of brand awareness for an institution.
According to Wikipedia, Butler University has just over 4,500 students of which about 3,900 are undergraduate students.  By most measurements that is a smaller sized university.  When a smaller institution plays with the big boys on a national stage like this, it's kind of a big deal.  Oh, by the way Duke has about 13,500 students.  Maybe this match-up isn't a true David vs Goliath match-up unless you consider Duke's perennial NCAA basketball success, but it's still a great story!
So what is all this lost opportunity that I'm talking about?  I'm talking about all the traffic that Butler had coming to their website that on the surface it looks like they aren't doing a strong job of converting.  Two years ago I did a comparison of the Elite Eight teams' web traffic because I wanted to show how a small school like Davidson really benefited from the extra awareness.  For some of the larger school's it's almost expected for them to do well in men's basketball, but Davidson really had a special year!  So let's look at Butler University's Alexa data over the past three months (below).  I don't have access to Butler's web analytics, but they OBVIOUSLY are getting lots of traffic recently.  You can't 100% assume that it's all from the tournament, but I think it's a safe observation that it's not a total coincidence.  For those who don't know about Alexa, they are a free service that gives you visitor traffic data to sites all over the web.  It's not a perfect metric, but it's definitely better than nothing.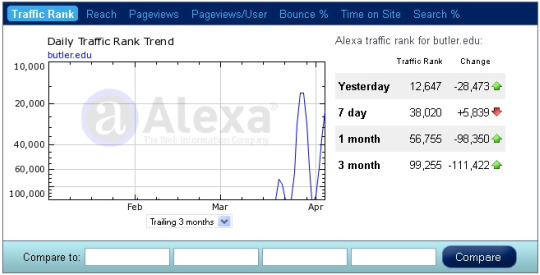 If you remember any of my recent presentations you probably remember my argument about turning your website into a true lead generation or inquiry generation machine.  If you want to know more, check out the slides from the presentation.  Butler is getting all this traffic, and they aren't doing anything special besides the standard "information for future students" link to try and generate more inquires and request more information from their homepage.  For the record, they do have a great "Request more information" call to action off their admission homepage.  What Butler does have is a link to a Butler Basketball page built on their main site.  Even it doesn't have any sort of compelling offers to drive visitors to get more information or subscribe to sports updates or ANYTHING!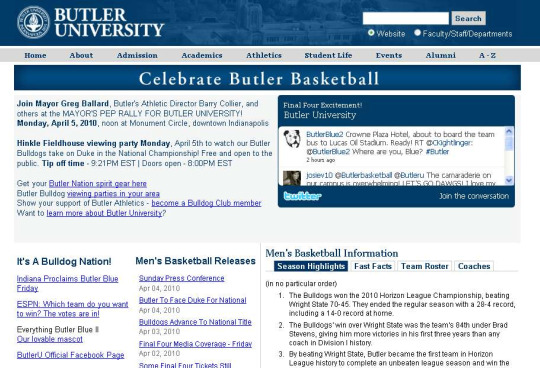 Can College Web Departments Truly Succeed In A Situation Like This?
At the end of the day I'm not blaming the web team at Butler for not turning this into a true conversion opportunity.  I'm not blaming them because I don't even know if they are given the authority to act in a rapid manner like this.  I guess there are really a few issues that jump right to the front of my mind and probably are the reality at a lot of higher education web departments:
College Web Marketers Aren't Conversion Expert: Do college web individuals really think about the true conversion opportunities they don't take advantage of all over the place?  Every page is an opportunity to drive a visitor further down some conversion funnel, but I'm not sure enough higher ed web people think about this AT ALL.
College Web Marketers Aren't Agile: With the red tape and politics, is a higher ed web professional even given the freedom to act quickly when a major event like this happens?  Yes, there are exceptions, but I know from personal experience how many people have their hands in the cookie jar whether they know anything about the web or not.
College Websites Are Too Decentralized: Are colleges t0o departmentalized and segmented for a major sporting event to affect marketing and admissions activities to ride the excitement wave?  I know many schools have multiple websites run by different people and each live in their own silo.  Does this prevent people from taking an incoming wave and surfing it to the beach?  Are there any athletic websites that are still managed as part of the overall institutions web team?
So I don't know all the answers on this one and I hope every institution can start thinking more about how they would react should their school be put into this wonderful position.  What do you think?  Am I being totally unrealistic here?  It's definitely something to think about and I look forward to reading your comments.
Also kind of ironic that our post yesterday just so happened to be about champion Duke University's use of Drupal!  By the way, great information, Christina. And congratulations on a HUGE win!