Research- it's a great way to find out what's going on in recruitment today. In the past few weeks, several reports have been released that give us a picture of where high school students are looking for information when searching for colleges. This research is a great way to see how recruitment is trending on a national level. In this post, we'll talk about research from Noel-Levitz, Hobsons, and Stamats.
These three reports offer a wealth of information about what students want from colleges and universities. It's way more than I can talk about in just one post, so I'm just going to focus on the social media aspects of these reports. Beware, this data could possibly surprise you.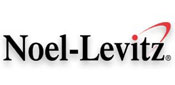 E-Expectations- Focusing You E-Recruitment Efforts to Meet the Expectations of College-Bound Students
The Noel-Levitz researchers surveyed more than 1,000 college bound high school students. The survey asked these students about what they do online, as well as their expectations of colleges and universities.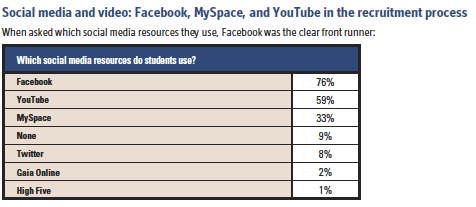 Noel-Levitz's E-Expectations sets the baseline for us by reporting what social networks are most popular among college bound students. As you can see, Facebook is a clear front runner at 76%. This wasn't a big surprise. Facebook did just pass the 500 million user mark.
"Respondents also affirmed that social media have become important parts of e-recruitment campaigns. Thirty-three percent said that they had searched for schools on social networking sites. Seventy-four percent thought schools should have a presence on social media sites, with 80 percent of those students saying they wanted both official and unofficial content through social media and 67 percent deeming it appropriate for admissions counselors they had worked with to contact them through social media. Finally, 76 percent said schools should create their own private social networks." - Noel LevitzE-Expectations

The Hobsons Report on Undergraduate Student Recruitment
The Hobsons report was conducted in partnership with Eduventures in March of 2010. 65,130 students from the United States (prospective undergraduates and recently enrolled students) were sent an online survey. Of the students who received it, 1,082 students completed the full survey.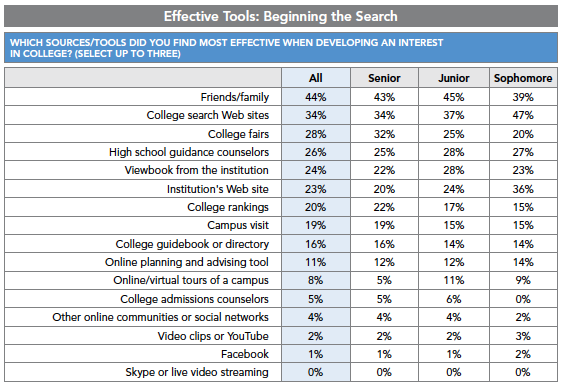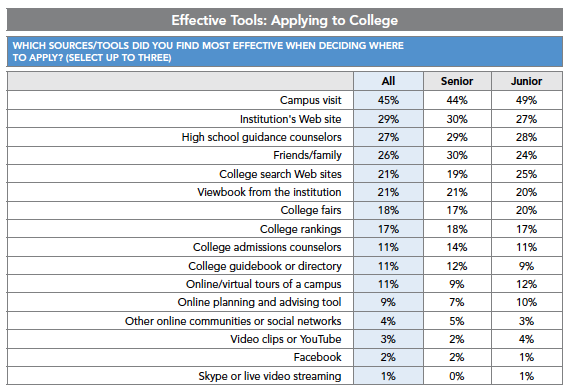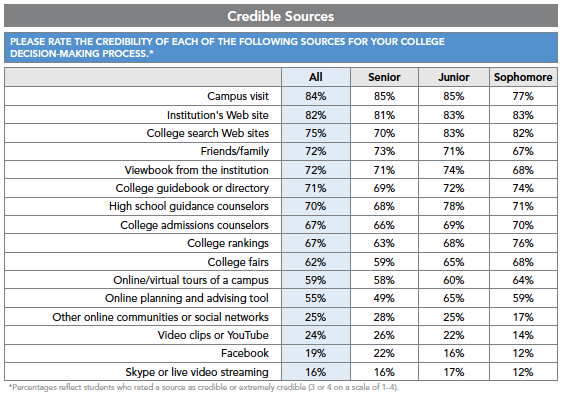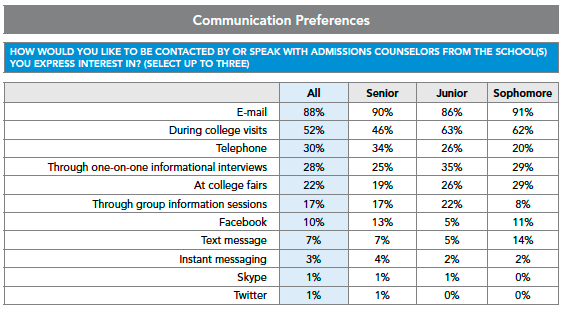 The Hobsons data is certainly interesting, and at first glance, it seems to contradict the Noel-Levitz report. Students reported that Facebook and YouTube, the most used social networking sites according to the Noel-Levitz data, aren't very effective with the college search and application process. Both barely even register on the scale with only 1% to 2% of respondents saying they consider Facebook or YouTube to be most effective.
What's even more interesting is their credibility. Only 19% of respondents found Facebook to be a credible source of information about a school. YouTube registered slightly higher at 24%. Head of Marketing wrote a great article about last year's Hobsons report. You should check it out here. The findings from last year are pretty similar to this year's results. Though the number has increased a few percentage points, it's not a huge jump.
It's also notable that very few students listed Facebook, Twitter, and Skype as a way they want admissions counselors to contact them. I think this makes sense. Social media is an awesome tool, but its never going to replace e-mails, phone calls, and college visits.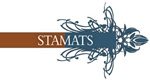 Stamats - TeensTalk®
Stamats TeensTalk report was generated from a nationwide survey of 500 high school students who will attend college as a first year freshman in Fall 2010. It was conducted at three times in the recruitment cycle: June(Summer), November(Fall), and February-March(Spring). Stamats measured both acceptable and preferred methods of communication before and after a student applied to a university.
Fall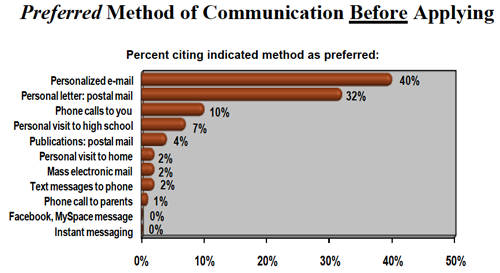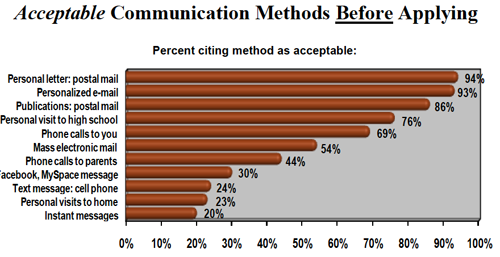 Spring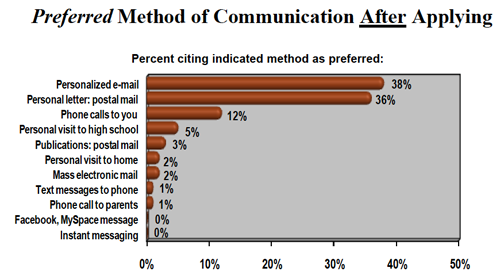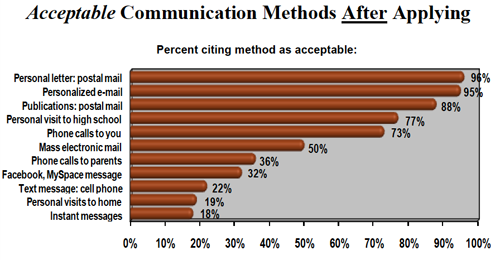 Summer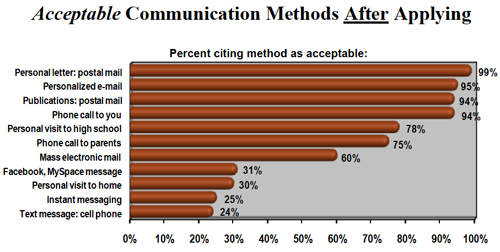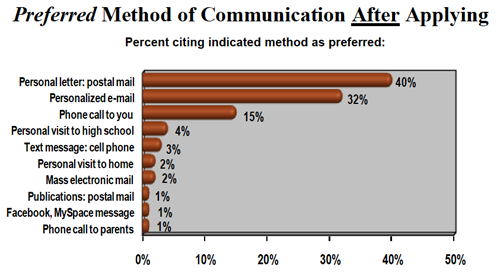 The Stamats report seems to correlate with the Hobsons data when it comes to a preferred method of communication with a university. In these reports, Facebook and Myspace are not preferred methods of communication. In both cases, other forms of communication win hands down. You also may notice that the Stamats research shows that throughout the entire recruitment process, only 30% of students find Facebook and MySpace as acceptable forms of communication. Take a closer look at the summer data- that's almost equal to a personal visit to their home among the students who have applied to a university. I believe this fits well with 33% of the Noel-Levitz respondents who actually looked for a school on a social media site.
Well, what does it all mean??
The evidence is right there. Student's really aren't utilizing social media as a communication bridge between themselves and their prospective schools. Does that mean we're in trouble? Some of these questions could be popping up in your head right now:
Is social media a dead end?
Should we reconsider our investment in these new emerging technologies?
Should we totally dismiss these findings?
The answer is a resounding no. Social media is certainly new, though not as new as it was a couple of years ago. It's great that we are finally starting to see some real data on how it is being used. I think that the data is very telling about what students want. I believe there are a few reasons students are not using social media like we might expect them to.
Think about what social media really is. Whether its farming on Farmville, posting pictures from that wild party on Facebook, or tweeting it up on Twitter, social media is a way for people to interact with each other and build relationships. When a student begins their college search, they aren't looking to make friends with you right away. They want to find out what majors a school offers and what the price of their education would be. After all, they are shopping around. So it makes sense that students may not want to connect with schools on such a personal level right off the bat. I think that social media becomes important when students are making decisions after they've been admitted. It's at this point that I think students are going to be most open to interacting with a school on a social network. It's the icing on the cake that urges a student to take the plunge, so to speak.
Schools aren't utilizing social media like they could be. Earlier this year, Noel-Levitz released theE-Recruiting Practices Report which benchmarks the e-recruitment practices of schools across the country. In that report, social media is only being utilized by 38.9% of four-year public institutions, 26.1% of four-year private institutions, and 6.7% of two-year public institutions. More than half of the schools out there aren't using social media in recruitment. Though the numbers have grown since last year, many schools still aren't utilizing it. So there's still a good chance that the schools which students are considering don't have a social media presence. This could definitely affect how students utilize these sites for their college searches.
Schools may not be using social media correctly. I know this is a rather vague point, but I wanted to mention it. There are lots of ways to use social media. However, since few schools are using it, there aren't a lot of best practices to benchmark from. There are schools that just create a Facebook page or Twitter account and then post news stories from the university homepage. In some cases, no one monitors or engages the fans and followers. The key is to be social- that's why it's called 'social' media. In my opinion, engagement is the best way to build relationships with your fan base and followers. They aren't going to answer their own questions, right? Once you've built that relationship, people will begin visiting and commenting more. It's a feedback loop of social media goodness. Such interaction will lend more credibility to your social media ventures.
As I said before, I think this data is good food for thought. The data may not be exactly what all of us wanted or expected to hear, but it's data we should consider nonetheless. At the very least, the data gives us a view of how the social media story is playing out for all of us. This is not to say that we should use this data on a strategic or even tactical level. This is national data. It is not a rubber stamp for every university. It is certainly no substitute for your own internal research. When you do your own research, you have a chance to ask the questions you want to ask. You won't wonder how the data was collected or how the results were tabulated. Conducting your own research allows you to think about what questions you want to ask, and sometimes the results from our research make us consider what questions we should be asking but aren't. Every school is looking for a different kind of student. There are many ways to use social media. Do the research, find out what your prospects want, and adjust your social media strategy accordingly.