April is an incredibly important month for Admission Offices around the country. There's accepted student open houses, email campaigns, school swag to be mailed, and events across the country to convince top high school students that they should deposit to your school by May 1. What's the point of all these increased marketing efforts? Sure, you want to convince students that you have the top facilities, faculty, alumni network and academic programs. But, you're also relying on the students convincing each other, too. Your accepted students talk constantly on Facebook and organize their own meetups, trying to feel like their school choice is going to be the right choice.
This got me thinking about web chats. School-sponsored chat rooms are not cutting it as an effective way to yield accepted students. Take a look at the Noel-LevitzStudent Recruitment Practices and Strategies report statistics:

In 2009, only 8.3% of 4-year public, 2% of 4-year private, and 1.5% of 2-year public institutions considered their chat rooms a "very effective" tool in recruitment.
So, you're working in web recruitment and you may already have good web content - maybe even a personalized portal for accepted students - and you're active in social media. What else can you do? Are video chats worth it? Maybe. I polled my school's Class ofFacebook group and the responses may surprise you.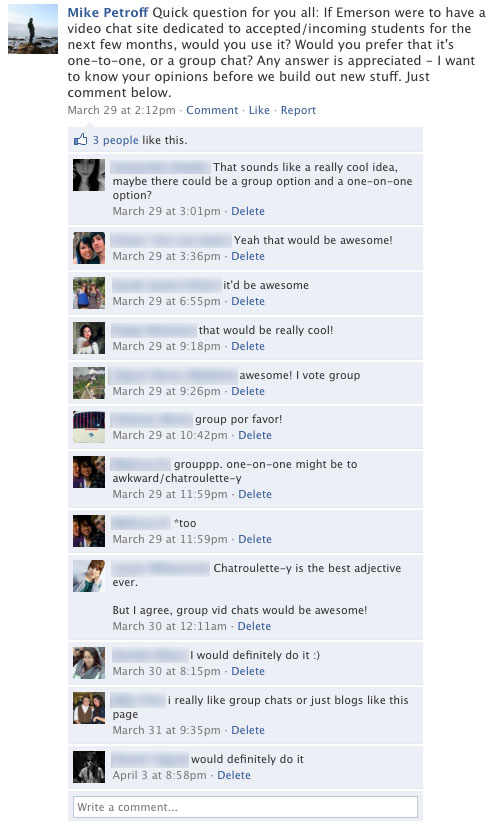 From the responses it looks like the students are pretty excited about the idea. I haven't put this into practice yet, but the leading video chat services seem to be tinychat and TokBox. I've tested both, and they're incredibly easy to set up and get a video chat room running, but they suffer from lag. Chats almost become unbearable with more than four people in the same room.
And yes, there's Chatroulette as well. Let's face it - it's popular. Did you know you can create a subdomains within Chatroulette? For example, you could type in and invite people to that link, so that only a selected group could join in. I'm going to stay away from this, however, since the students I polled like the group chat idea, and not awkward one-on-one chats.
I'm excited to see how schools begin using video chats in future recruitment cycles. Do you think video chats can be an effective tool for recruitment?