I've been thinking about this one ever since the big announcement came. Rather than give Apple the halo effect or the horn effect and hold it up as the model of what to do or what not to do, I thought these few lessons were a bit of both:
1. Do your homework. Pick your names with care.
After all the talk and high expectations about which one would take Twitter down, Apple or the State of the Union, it wasn't just "Apple" or "Steve Jobs" or "Tablet" or even just "iPad" alone that trended. It was iTampon, and all the jokes that went along with it. (I guess in geekdom, even Apple gets tweckled.)
What's the lesson higher ed can take away from this? While one could argue that the publicity from all the articles over the name iPad may not hurt, an academic institution—or someone acting on its behalf—may not be so lucky.  When we name a committee, come up with a clever acronym, create a URL for a website, decide on a hashtag, or what have you, we need to do our homework:
Make the name descriptive but short. This way it is easy to remember and easy to type, but won't impact character limitations.
Do your homework. Doing a search may uncover meanings in other languages or subcultures—including from Urban Dictionary searches— that may affect your choice.   When selecting hashtags for events, try checking Addictomatic to make sure you're not using the same tag as other existing events.
Proofread before publishing, especially URLs.  (True story: someone once misspelled a page that should have had "public" as part of its URL.  It wasn't discovered until months later, but breaking a few bookmarks was much better than leaving the offensive misspelling of the word.)
2. Give us our WiFi.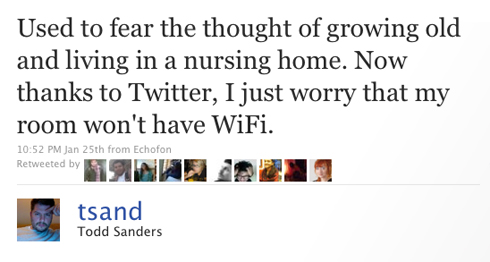 We move farther away from physical media, and local software.  To me the iPad isn't the end-all-be-all, but it is a signpost that points out how little we need on a machine anymore.  While the iPad is not going to replace all forms of computing, it's still a harbinger of future devices and future use cases depending heavily on 3rd party apps, cloud computing, and streaming content.
What's the lesson higher ed can take away from this? With online enrollments increasing, higher education should take an active interest in the barriers to accessing online content.  People will be viewing content online, and that means that our copyright laws and our broadband need to keep pace with these changes.
3. Stop fitting square pegs into round holes.
We techies like to assume that every new release is for us. We want desperately to be the new adopters. We'll justify anything shiny, fitting a square peg into a round hole, or as Kathy Sierra tweeted, "iPad lust 100% explained by science fiction author Robert A. Heinlein 'Man is not a rational animal, he is a rationalizing animal.'" In all our criticisms, did it occur to us that this was not a device meant for us? Maybe not right away.
What's the lesson higher ed can take away from this? It's not the tool; it's the goal. It's not about what you like. It's about who you are trying to serve. Instead of thinking about why we would or wouldn't want a piece of technology, we need to ask our customers what their needs are, and then figure out what technology serves this goal.
Image Credit: Apple Wallpaper by davidgsteadman