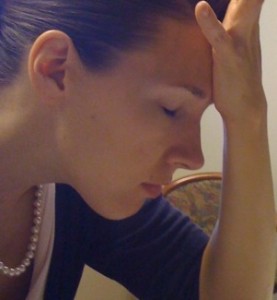 I knew smooth sailing couldn't last forever. Someday, that dreaded negative comment would rear its ugly head on  our university Facebook page. I just didn't know it would be so harassing, misplaced and something that would give me an instant panic attack.
It started innocently enough: the occasional hatred of the Red Sox. A snarky comment about a recent campus event invitation. Somehow, it escalated to random jabs of 'bitches' posted on the page for no apparent reason other than to mess with the administrator. I was baffled at what appeared to be comment spam from someone who must have had a negative experience.
I sat back. I had that inner dialog most community managers have when they hit their first negative member. 'Do I reach out to this person, or will that only enrage them more?' 'Should I engage them openly, or will that ultimately end with me losing control/getting ganged up on?' 'What would happen if I emailed them directly to see what their issues may be?'
Addressing this situation can be a tightrope, but one you absolutely have to walk out on. We've all seen how comments can build momentum, be it a back channel such as The Great Keynote Meltdown of or the more recent Nestle Facebook Fan Page debacle. Although tenuous, it is most definitely, very necessary.
I took what I felt was the high road and emailed this person via Facebook. I tried to address any concerns they may have and invited them to my help. I asked them if we were posting too much, that they could consider removing us from pages that they've 'fanned'. I then let them know that any further profane or negative comments that do not add to the conversation will be removed. I wished them a good weekend, and gave them my full name, title and university email.
The next day, this person un-fanned the page, negative comments ceased and I felt foolishly triumphant. While out to lunch, I checked my email and found that I had a response from the message I had sent to this person the previous week:
"Blow me."
To make matters worse, the negative comments were back and included one that was my ultimate fear: that we were inhibiting what students can say on our Facebook presence. I quickly addressed this - this time, out in the open - and the negativity continued. This is when I realized it was time to disengage.
Add to this that you can't block someone unless they are a current fan of the page. If so, its very easy to permanently ban someone from a Facebook fan page. Since my lil' stalker would only pounce in and out to malice me, once out there was nothing I could do.  If I blocked them from my account, they could still post on the page for others to see.
A co-worker tried to find this person in search and turned up gold: two profiles. One with no friends, one with several. In steps all those little 'report' links that I never paid attention to before. I reported the profane email. I then reported the suspicious profile (Facebook allows you to report 'impersonations', providing the link to the profile you feel is the true one).
So far, the negative profile has been suspended and all negative activity on our page has since ceased. But that doesn't mean I don't check every day hoping that another negative comment or account hasn't popped up. The truth is, at any time there could be another situation such as this. Disgruntled alumni. Irked parents. Undergrads dissatisfied with Spring semester grades. The point is that stepping in may be uncomfortable and you may not know how exactly to handle it or how the person will react, but doing nothing will only make matters continue or worse. Sometimes, you'll get luckily and students will spring to your rescue and problems resolve themselves. But what if that doesn't happen?
How have you addressed negative comments? Any horror stories or positive notes to share?