At this point, you're probably aware of the frenzy over Facebook's complicated privacy settings. Major news outlets are covering it, a Quit Facebook Day campaign started, and new Facebook apps are emerging that promise to secure your privacy again.
I won't get into the big debate on whether or not Admissions Counselors should 'friend' students. This post is simply directed to those counselors that already have high school students in their friend lists, or plan on 'friending' them in the future.
So, you're an Admissions Counselor and you're now worried about the information friends can share about you. Rather than simply complain about Facebook's complicated settings, or quit Facebook entirely, there's an easy way to get a broad view of information your friends are sharing about you - and make changes.
Check out ReclaimPrivacy.org. It's easier than reading through Facebook's 5,830-word privacy policy (which is 1,287 words longer than the US Constitution).
---
ReclaimPrivacy.org walks you through the following steps:
Drag this link to your web browser bookmarks bar: Scan for Privacy
Go to your Facebook privacy settings and then click that bookmark once you are on Facebook.
You will see a series of privacy scans that inspect your privacy settings and warn you about settings that might be unexpectedly public.
---
When I used ReclaimPrivacy.org on my own Facebook account, I had everything secured, since I vigilantly try to keep Facebook locked down. But, I decided to walk through the same process with a fairly Facebook-savvy Admissions Counselor at my school. She told me she had gone through and set her privacy in Facebook "a couple months ago" but has not viewed it since. Not surprisingly, we discovered some vulnerabilities. (
Click
for larger image)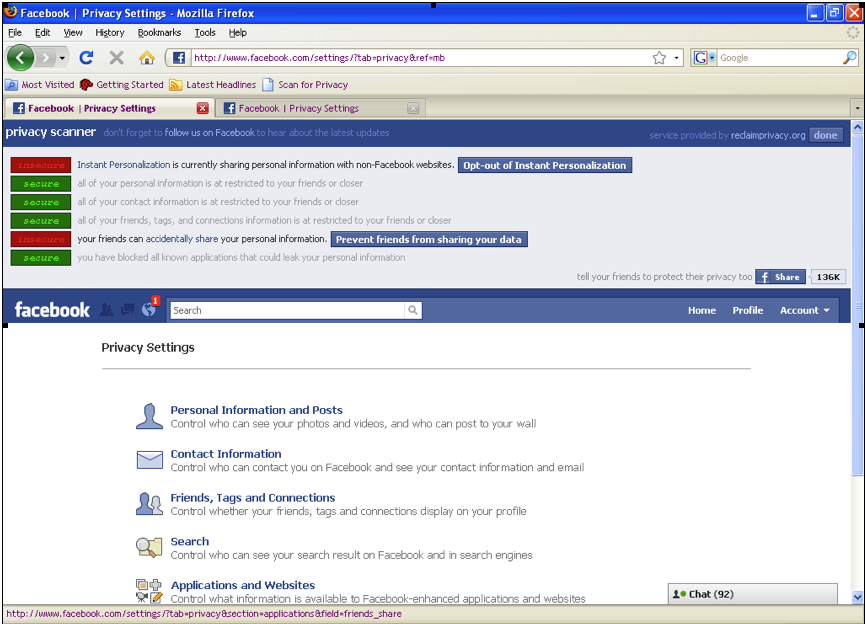 I encourage you to take a look at ReclaimPrivacy.org and set your privacy accordingly - especially if you're interacting with students on Facebook.
Photo credit: Kables