This data from the Participatory Marketing Network (PMN) was simply too compelling.  The article talks about how the majority of Gen Y have not yet taken flight on Twitter claiming that only 22% of 18-24 year olds are on it. However, you could flip this data to say that almost a quarter of them are there so your institution should at least be listening.  Personally I am tired of talking and reading about Twitter as it seems like every blogger has written about a dozen posts on it already.  I mean how many different things can you really say about a service that only lets you input 140 characters?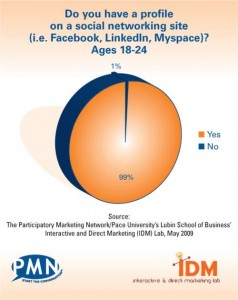 Anyway let's get back to the big story here.  According to PMN's data:
"99 percent of this same group reports having an active profile on at least one social networking site"
How can you ignore that data?  We are talking about practically every undergraduate student that you have!  Some of the other really interesting findings include:
- Online social networks are hot for Gen Y
- 99 percent have a profile on a social networking site
- 89 percent have downloaded an application to their profile page
- Photos (89 percent), Games (53 percent), Entertainment
(51 percent), News (32 percent) and Weather (29 percent) are
the most popular applications
- Mobile social networking is heating up for Gen Y
- 38 percent have an iPhone or iPod Touch
- Games (53 percent), Entertainment (35 percent), Lifestyle
(31 percent), Financial - Free (28 percent), Financial - Paid
(7 percent) are the most popular mobile applications
- More than one quarter (26 percent) indicated none
Now what?
So the question now is what are you going to do knowing this data?  I know that we all run into cases where it can be difficult to convince administrators of the importance of social media, so hopefully you can bookmark this data to help make your case a little more compelling next time around.  Also be sure to check out the associated graphs that can be downloaded and printed at the end of the PMN press release.