Since coming back from Google Analytics training last week finding the time to setup all the wonderful new tricks that I learned has presented a challenge.  This post is a nice little introduction to some of the basics that I learned last week.  This is part one in what will be a continuing series about Google Analytics
Installing the Code
Installing the code is the easy part.  I would definitely recommend going with the new ga.js at this point.  If you are still on the old urchin.js then find some time to swap everything over.

The above code should look fairly similar to your account.  The one line that I've underlined and added is to set your domain name.  What this allows you to do is to track sub-domain traffic and split it out.  This will be discussed in more detail later.
Setting up a Profile
When setting up a profile make sure to fill out all the options.  Specifically make sure that you fill out the Default Page option and the Site Search information.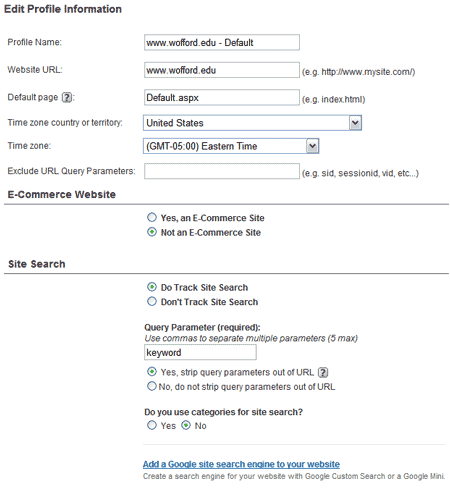 The default page setting will help you get rid of redundancy in the system.  There is nothing more annoying than seeing data for something like www.wofford.edu/ along with www.wofford.edu/default.aspx when we know that they are the same page.  Go ahead and save yourself the trouble in the long run by setting this up now.  Secondly, the Site Search provides valuable information about what individuals are searching for on your site.  You don't need Google search for your internal site, turning this option on will work with any internal search that you use.  The Query Parameter is simply the value that you return in your search string.  For example on wofford.edu if you run a search for "apply" then the returning URL would look like this (https://www.wofford.edu/search/searchSiteResults.aspx?keyword=apply).  As you can see the search parameter is keyword.  You might as well strip query parameters out of the URL because this will help clean your page and you are storing these results in the site search section now.
Setup Multiple Profiles
Google Analytics allows you to setup a max of 100 website profiles in an account.  Why not take advantage of this?  One of the tips I mentioned last week was to setup multiple profiles.  So what does that mean?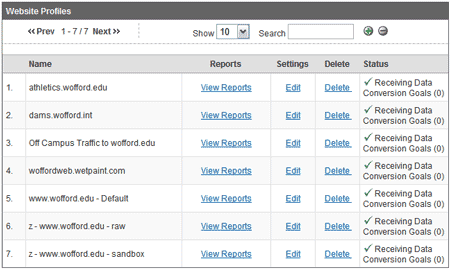 First I would recommend setting up a minimum of three profiles.
Default Profile
Raw Data Profile
Sandbox Profile
The Sandbox is where you can test and play with new filters (we'll get to some of those in a second) among other things.  The Default is where your main data is going to be saved and the Raw Data is the profile that you keep that doesn't have any filters simply the raw data, just in case something bad happens.  Two of the obvious examples of additional profiles in the picture above are athletics.wofford.edu and Off Campus Traffic.  I can pull reports specifically about this sort of traffic or pull from the Default data which includes everything.  You will also notice that I stashed a z at the front of a few of the profiles so they get filtered to the bottom.  This is just another handy tip to help keep your profile list clean and organized.
Some Basic Filters
All Lowercase Filter: The first filter is the lowercase filter.  This filter is one that would be wise to apply to EVERY report.  I know I said the Raw Data profile doesn't have any filters, but this filter wouldn't hurt to be applied to it.  The lowercase filter removes duplicates from the system that you might have by making all characters in your reports lowercase.  The best example of this would be wofford.edu/default.aspx and wofford.edu/Default.aspxshowing up as two seperate entries when they are obviously the same page.
For more information about this filter I highly recommend reading Some Basics about Lowercase Filters over at the ROI Revolution blog.
Exclude all Traffic from an IP Address: This filter sounds pretty easy, but the first reaction most people will have is that excluding one address isn't what I want to do.  I want to exclude all the IP addresses from a location, how do I do that?  Google anticipated this and created a nice little page that will provide you with the code to put for this request.  This Google Analytics Help Center will help you create the .
The perfect example for this filter is to track a college's website traffic from off campus.
Tracking Sub Domain Traffic: As I showed in the profiles above we have athletics.wofford.edu split out in a separate profile so that we can look at data just to that sub domain.  To do this requires two extra filters.  One filter is applied to the sub domain profile while the other is applied to the default profile.  Instead of trying to explain all this in detail Justin Cutroni over at Analytics Talk put together a post on Tracking Sub Domains with Google Analytics back in November that I followed then and have been enjoying the results since.
Final Thoughts
Hopefully that is enough to get you more effectively using your Google Analytics account and starting to clean up your data.  Just a few days ago on the Official Google Analytics Blog it was announced that Benchmarking Data Now Live! This should add a whole new level to web analytics and simply another reason to jump on board this wonderful service.  I will admit though that I'm a little confused about exactly what category College websites fit into?  Maybe non-profits?
There are lots of great blogs out there on Google Analytics a few that I regularly read and would recommend include:
The Official Google Analytics Blog- this blog is surprising updated quite regularly and every gem posted is must know material.
Analytics Talk- This blog is only posted to when something really helpful or important comes out so it's something to add to the feed-reader for those really important tips when they come out.
Unofficial Google Analytics Blog- This blog run is run by the folks over their at ROI Revolution.  After meeting them last week they definitely know what they are talking about and their blog is a great starting point for a wealth of information.
Occam's Razor- This blog by Google's very own Avinash Kaushik is a must add to the feed-reader.  Avinash wrote "Web Analytics: An Hour A Day" which is a must read book in Analytics circles.  I'll admit I have yet to read it, but it's the first things on my to do list this summer.  Read any post on his blog and you will feel like a smarter individual.
Web Analytics World- Although this blog isn't specifically about Google Analytics the author, Manoj Jasra, does a great job of regularly summarizing some of the industry news in the analytics world.